Waste Not Want Not
Recycling furniture goes by many different names. Up-cycling, reclaiming, reusing, repurposing, restyling, etc. Call it what you want, recycling furniture is more than just throwing things together and hoping they will look stylish. It takes imagination and creative skill for a successful finish. Although reupholstering a chair or restyling furniture is not necessarily a cheaper option than buying new, there are a number of reasons why we should all be considering it.
Benefits of recycling furniture.
There are many. Probably the most appealing thing for me is creating a unique piece of furniture that nobody else has. Why have the same as everyone else, when you can tailor it to perfectly match your tastes? I found writing a list of benefits rewarding and a great reminder of the impact buying new furniture has on the environment. But let's not forget the impact a recycling project can have on ourselves and our homes too, as we get to fall in love with our 'old brand new furniture' all over again.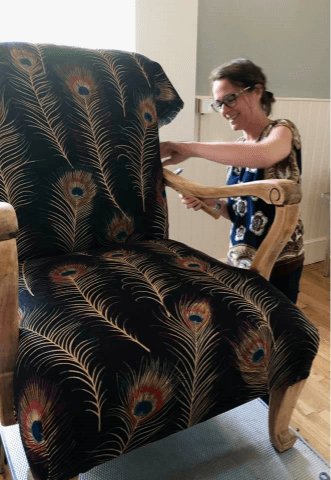 So what are the 8 reasons we should recycle furniture?
Recycling is an essential part of diverting waste from landfill.
It is hugely beneficial for the environment – it saves energy, reducing the effects of global warming, helping save forests and some of the planet's most endangered animal species.
Prolonging the life of existing pieces of furniture makes logical sense if there's structurally nothing wrong with it.
Restyling furniture can be a convenient option if you already have a quality piece of furniture that fits perfectly within your home, saving you time searching for something new that will fit.
Recycling something you already have or buying a second-hand piece for an upcycling project, gives you the chance to put your own unique stamp on it, allowing you to choose the right fabrics, colours, and patterns other than just making do with what the shops have to offer.
It is likely that the furniture that was made years ago is of better quality than the mass-produced one you can currently get from a modern-day retailer.
Reusing what you already have or choosing to buy second hand reduces the amount of packaging and shipping, therefore cutting the carbon footprint new products produce.
Bringing life back into 'Grandma's old chair' will help keep heirlooms in the family for future generations.
3 reasons when we shouldn't spend our time and money on recycling
In my opinion, recycling should only be executed on the 'right piece'. Below I have compiled a (shorter) list of reasons of when you should 'Just leave it alone'!
When your piece of furniture looks beautiful just as it is. It is a terrible shame when you see a beautiful antique ruined by (from my point of view) the dreaded "Chalk paint". Just because you can – doesn't mean you should!
Time and money should only be spent on restyling sturdy solid-wood furniture. Some furniture is just not worthy to be upcycled. I have in the past worked on a sideboard to discover that it was made out of chipboard! When you've just spent £50 a roll on a designer wallpaper for the project, its a pretty disappointing thing to discover! The same rules apply with upholstery, there's no point spending a small fortune on fabric when the chair is either full of woodworm or of cheap manufactured quality, as its likely the fabric will outlive its frame.
If you have an antique chair in need of restoration, I believe you should only proceed if you can commit to a high quality finish. A 100 year old antique chair upholstered with foam and staples, then covered in a £10 a metre fabric, is not a sympathetic restoration!
Some things are just better new..
Now before you start to think that I love all things recycled, I don't. I have my limits. In my view, vintage fabrics, wall-papers, bed linens, don't quite cut the mustard. I'm not saying there aren't any nice ones out there, but often its vintage condition falls short of being chic! There are so many beautiful wallpapers and fabrics on the market that I believe in balancing an eclectic mix of old and new.
Anyway, that's it from me. I hope you'll come away a little more passionate about recycling your old furniture.
Please get in touch if you would like to discuss a recycling project.
Emma ❤️