Cymbal Assemblage
Mandala design on recycled materials
One of a Kind Assemblage
| Artwork Size Guide | Price |
| --- | --- |
| 350mm x 500m | £345.00 |
Free UK Delivery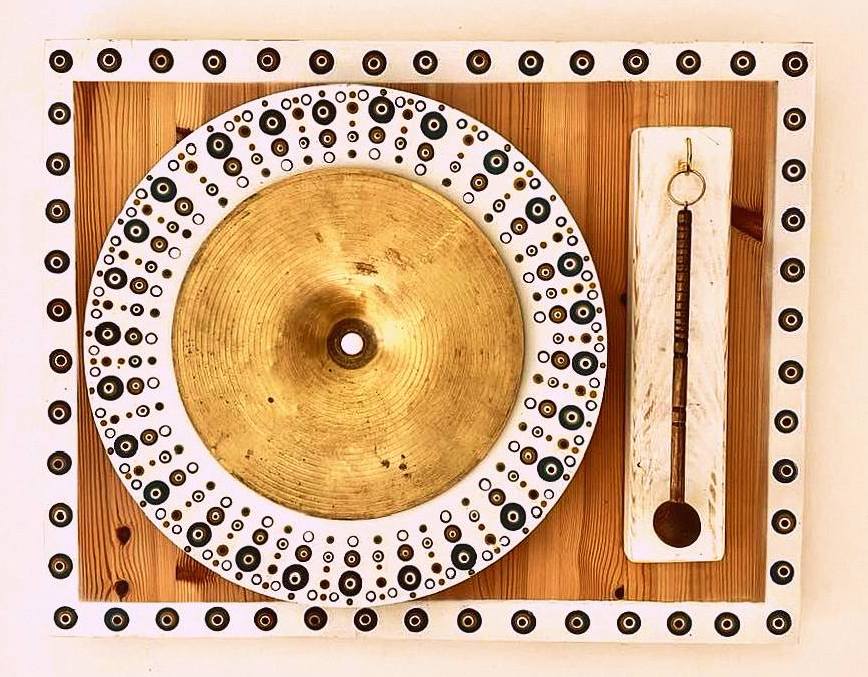 A quirky assemblage, perfect for alerting your family that 'lunch is ready'!

Emma Mullender
Inspiration
I was given a drum kit, an old rusty one, but it was the perfect materials for recycled assemblages. This 'Cymbal Assemblage' was inspired from my love of making art with a musical theme + I've always loved the simplicity of the design and colours of my retro salt shakers!, so I gathered some paints and my mandala dotting art tools that would help achieve this look.
The Process
I started by cutting the wood to size and sanding down the rough edges. Next step was spray painting the largest cymbal with white gloss paint (paint suitable for metal). Once dried, I started to design the edge of the cymbal, keeping it simple -like the salt and pepper pots! I decided to leave the smaller cymbal paint free, embracing all it's blemishes! Both cymbals were bolted on the backboard, with small wooden pegs (the same depth as the bolt) fitted around the back of the board, allowing the board to sit sturdy, away from the wall.
All of the materials were recycled, apart from the wooden gong mallet! I was a bit indecisive about buying the mallet, but thought it didn't seem right to have a cymbal with something to bash it with!
---
Print Order Form
Please complete the following order form noting your requirements and I will get back to you with payment details. Thanks, Em ❤