Available for sale as a Limited Edition high quality print!
Artwork Size
Price
Medium

30 x 55cm

£65
Large

50 x 75cm

£125
FREE UK post and packing!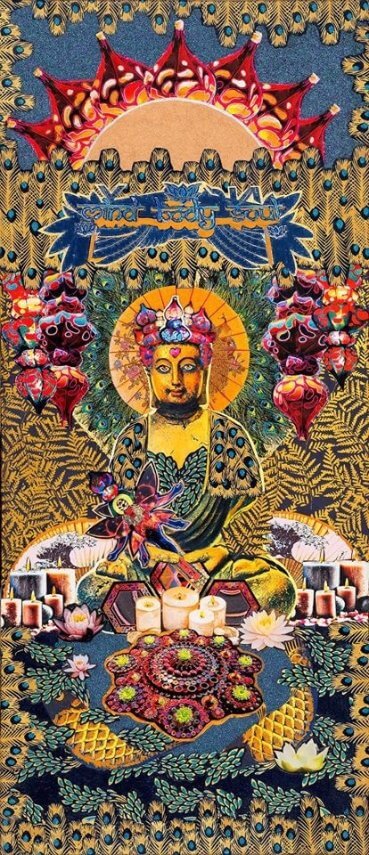 I fell in love with this print the minute I saw it. It looks amazing in the flesh and the paper quality is excellent!

Louise Grant
Place an Order
---
Please complete the following order form noting your requirements and I will get back to you with payment details. Thanks, Em ❤
---
Inspiration
There is a wonderful little Music and Arts Festival in Leicestershire called Noisily. It really is a magical place and every time I've been I have taken lots of photos of the fantastic light displays they have in the trees and around the festival site. I knew one day I would incorporate these photos in to a collage.
The Sun, Island in the water, Lanterns, Buddha Crown and Wand in the collage have all been made up from the lanterns and funky lights that adorn the festival grounds.
I chose to make Buddha the main feature of this collage, simply because I have wanted to make a Buddha collage forever, and have added my signature peacock feathers that tend to creep in to most things I create!
The Process
A Mixed Media collage made on canvas. Created with photographs, wrapping papers, Japanese print napkins, paints and Pens and digital effects. It took a huge amount of cutting and sticking to finish this collage!