My Garden Upcycling Lockdown Project
I Built this garden for us
As I sit here on my patio, frustrated I can't think of a catchy headline for my 'garden upcycling' blog, Lenny Kravitz's "I built this garden for us" came on from my shuffle list. I took it as a sign to stop trying to be clever with words and to keep it nice and simple, so I decided to go with Lenny's suggestion of 'I built this garden for us' because that's what I did. I built this garden for us – my family and me. Somewhere for us to chill and remain calm from all the madness that was going on. March 2020, when the whole world was preparing for lockdown and panicking about loo rolls, I was panicking about home-schooling and a patio that resembled the local tip.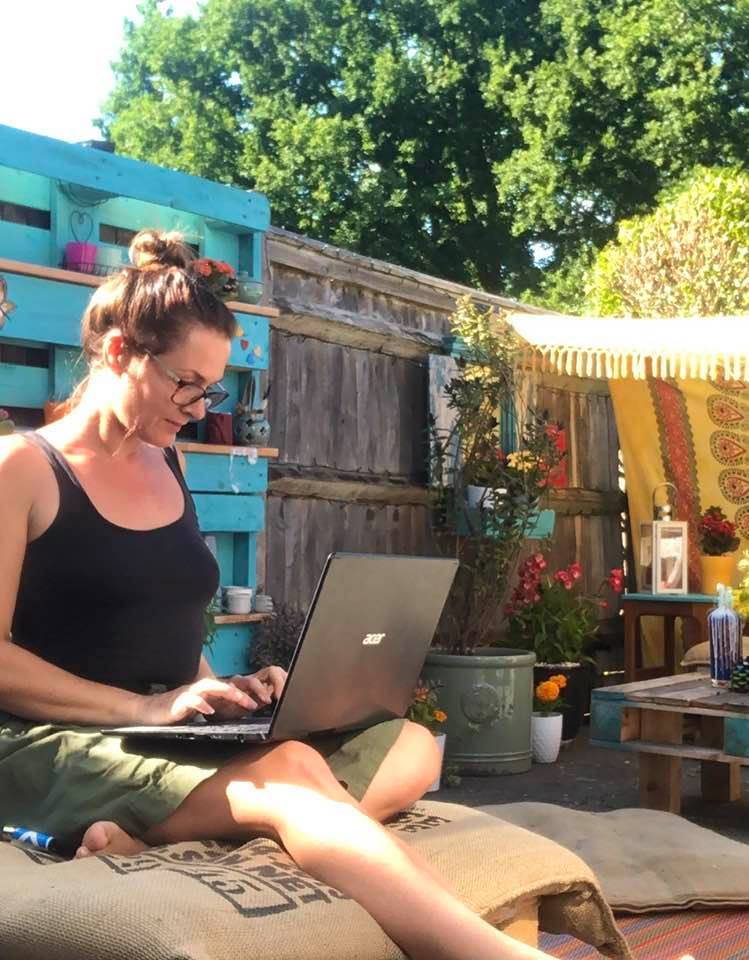 The Tidy Up
With reality setting in, housebound unless for essential shopping or 1 walk a day, it suddenly became super important to me to get our garden organised. Knowing that your surrounding environment can influence your behaviour and mood, I determined that our surroundings would influence our mood in a positive way.
We never planned for our patio to get as ugly as it did. We had recently completed some work on our house and our patio had become a bit of dumping ground. We had everything out there. A whole bathroom suite + hundreds of broken tiles, a T.V, plasterboard, bunk beds, kids toys and drum kit, old water tank, pallets and pipes, the lot! So much junk it took up one whole side of the patio. It was time to hire and skip and sift out and set aside what we could reuse; it was time to do some 'garden upcycling'!
I knew I wanted to make a chill out space, but what were my other goals?
To spend as little as possible.
To reuse as much as possible.
To 'tart up' what looks tired.
To be 'all' weather friendly (apart from cushions!)
To feel like we have gained another room.
To inspire and encourage people to recycle.
What was spared from landfill and what did we do with it?
The pallets were used for the seating, shelving and coffee table.
The dismantled bunkbeds were added to the pallet shelving.
The copper water tank was stripped and made to a planter
Symbols from drumkit (for another project I plan to do)
The canopy frame for seating area was made out of surplus wood from recent building work.
Reusing Old Accessories
We already had the cushions, lovely bright cotton throw (used for canopy), coffee sacks cushions (surplus from our festival wedding), candles, solar lights, and all other Knick Knacks. They were just forgotten about, either hidden or scattered around the house or shed, it was just the case of finding suitable things to use and giving them a new purpose.
Copper Water Tank Plant Pot
I think the copper tank planter must be my favourite recycled piece. The plants used are all perineal and suitable for the shaded area it sits in, hopefully they will look even better next year when they are more established! The wooden light-up picture was bought second hand for £5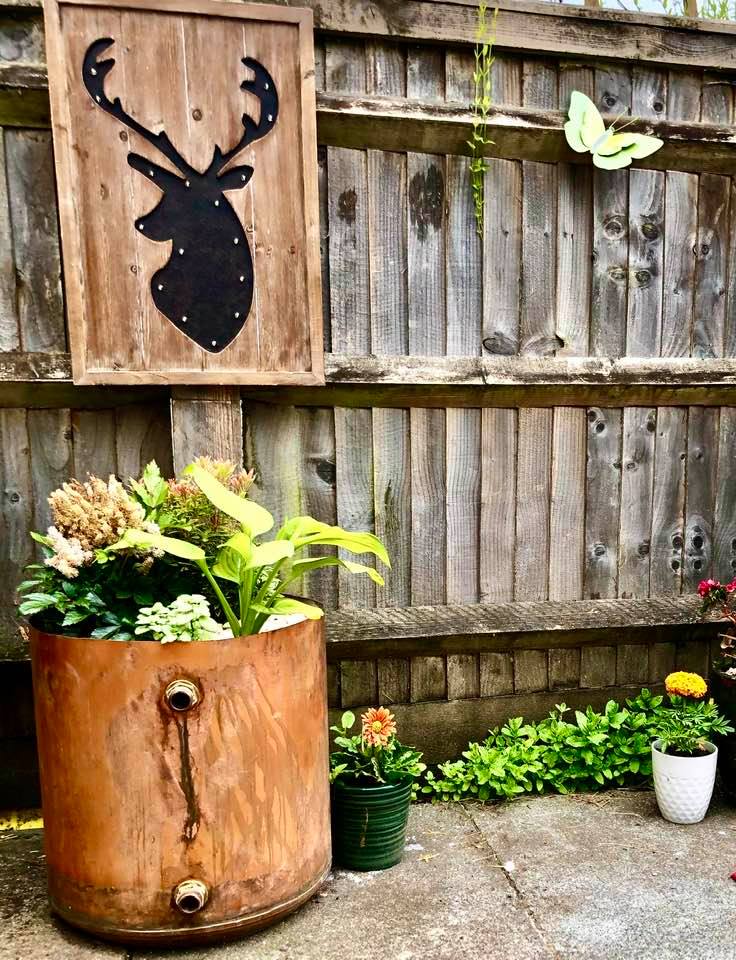 'All Tarted Up' Patio Dining Set
We had a decent enough teak wood patio table and chairs, but after 10 years and probably only oiled once in that time, it was looking a bit worse for wear. I am not going to lie, it was a bugger to get it to look good. Sanding and painting all the little nooks and crannies took a LOT of time and elbow grease! It is also where I spent the most money too.
How much was spent on the table and chairs?
The parasol – £40
The William Morris placemats/coasters £14.00
The seat cushions x two sets (orange and cream) – £40
The paint: – £22 (with enough left over to paint the the BBQ)
Total cost – £116.00
Conclusion: Worth every penny as not only have we saved it from landfill, we have a 'new' patio dining set with a unique colour scheme of our choice, that will hopefully last for many more years to come.
Our decrepit lean-to shed.
The second biggest job was making our horrid lean-to shed look decent. Unlike our table and chairs I didn't take too much time preparing the wood, as I knew it was on its last legs and will be knocked down as soon as were ready to do a kitchen extension. The shed was the last thing I worked on as I was very hesitant to spend money on it, but it was such an eyesore and was impossible to make our patio look finished with this monstrosity taking up a quarter of the space.
What did it cost?
Paint: £22
Paper blinds: £23
Plants: £4
Total cost: £48
Conclusion: Ok, I knew I could never ever get it to look great, but it certainly looks a lot better than it did. I am glad I did it and that it did not cost much! I bought paper blinds (to hide the awfulness that lurked inside). Hung up a few lanterns and a wire shelf (all of which we already had) and bought a couple of plants to add some colour. I would highly recommend garden upcycling as a clever way of making your outdoor space work with a clear conscience knowing that you've reused and recycled your old junk.
Did I manage to stick to my budget and achieve my goals?
Yes, very much so! Apart from spending money on paint, plants, parasol, placemats and paint, everything else was recycled. The recycled plastic patio rug was a gift from my husband. I love it and it really brings the whole space together.
So to summarise, with a bit of elbow grease, patience, creativity and not too much money spent (£246.30 to be precise) we have achieved: Another room. Chillout zone. Dining space. Outdoor office. Sunbathing. Star gazing. Bird watching spot. Music, Dance and Gin & Tonic den and one happy cat.
And I hope I have inspired you too!
Emma x