Expressing Your Personality, Hobbies, Loves & Passions with Collage.
"Mixed Media Personality Portrait" by Emma Mullender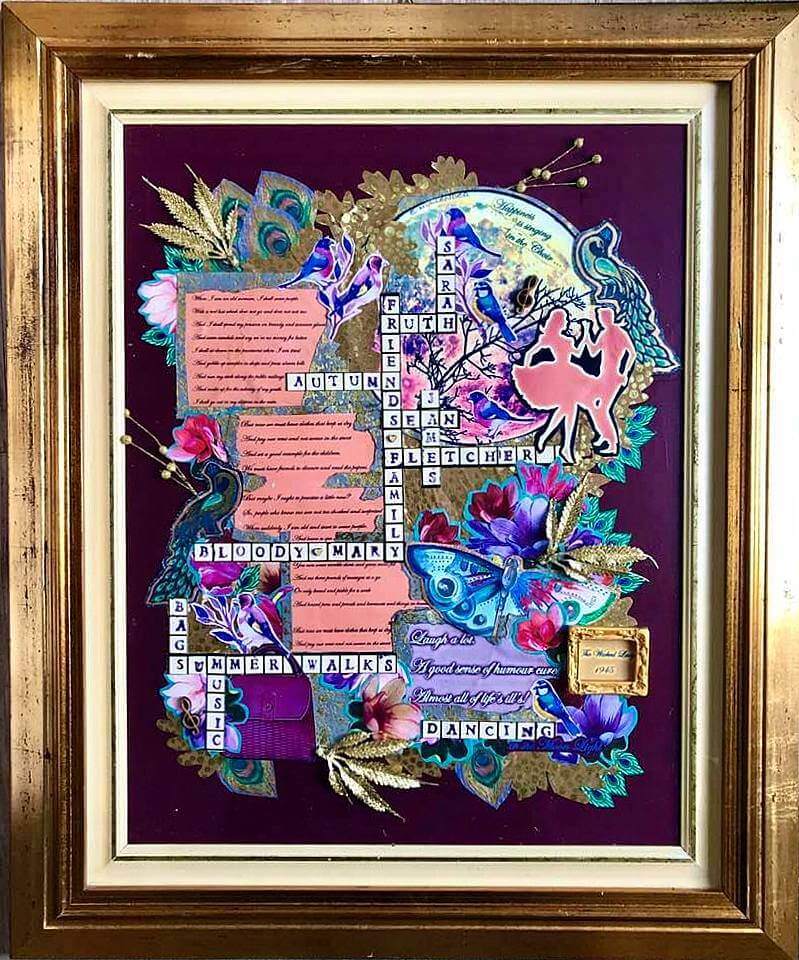 I wanted a unique and memorable present for my mum after a particular trying year. Emma's personality portrait did not disappoint! Emma guided me with thoughts & ideas throughout the process & accommodated a couple of last minute additions. My mum is over the moon with the portrait (as am I) & I would recommend Emma to anyone wanting something really special.

Mrs Ruth Empson-Ridge
The Brief
I was asked to make a 'Faceless Personality Portrait' by my friend Ruth, for her mother for Christmas. Fortunately I already had the bonus of my friends mother, Annie, being a fan of my work, so that was one thing less to worry about! A request for a vibrant and quirky collage, in a medium sized, gold or brown chunky frame with all Annie's favourite things, which included……….
Annie Loves …
Her favourite colour is purple • She loves singing in the choir • She loves watching dance (Charleston, Cha cha cha, Jive) • Favourite song is 'Dancing in the moonlight'• Favourite poem – 'Warning' by Jenny Joseph • Annie was in the 1945 film 'Wicked Lady' when she was a baby • Candles and Twinkling Lights, especially on a gloomy day • Spending time with Friends and Family • Loves a Bloody Mary• Bags • Laughing, particularly when things go wrong • Being outside in green spaces • Autumn is her favourite season • Reading and Crosswords• Music
The Process
I found a lovely double mounted frame in the charity shop, and because it was double mounted it gave depth, allowing me to make a 3d collage that was still protected my glass. It was first Personality Portrait that was 'Faceless' and was definitely trickier than one with a face, but I got there in the end!