"Pub Bench" Stig Ljunberg fabric" by Emma Mullender
Upcycled Bench (2019) by Emma Mullender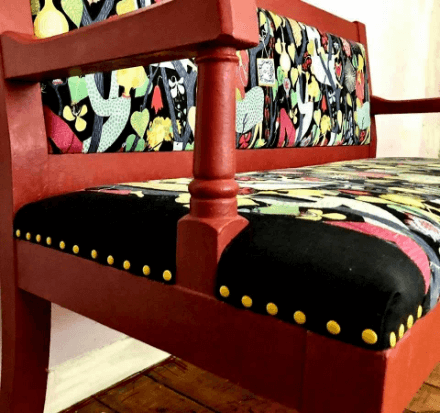 Inspiration
I was lucky enough to be gifted some beautiful fabric from my mother in law. She bought the fabric, which designed by the famous designer Stig Ljungberg, whilst visiting Sweden. Ljungbergs fabrics was founded by Erik Ljungberg in 1948 and sold a collection of fabrics designed by Stig Ljunberg. I was super impressed by the design, it was right up my street! and I knew that I wanted to use it to cover a bench for our kitchen. Now I just needed to find the bench!
The Process
It took a while, but I eventually found a bench that would be suitable for our kitchen table. As always, I bought the bench second hand for the bargain price of £20! The bench was in great condition, but I wanted to paint the wood. I used a chalk paint (which rarely use) because I didn't quite fancy the job of sanding the wood down! I also had the arms on the bench shortened by a carpenter so it would fit under the table better.
Unfortunately the fabric wasn't quite long enough, but I was determined to use it, so I sewed in some black end panels each side and made a feature out of them by decorating the ends with some yellow studs. I'm really happy with the finished result and the bench sits happily in our kitchen. I even made some art to match the design!