Home is where the Vinyl is..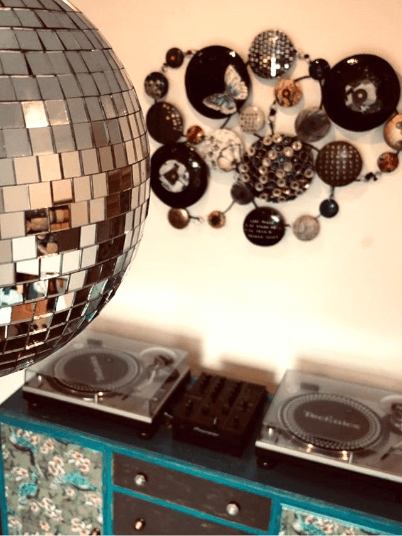 The Brief
To style music corner.
3m X 1.5m space.
Storage of vinyl records, decks, mixer and amplifier.
Concealed Storage
Harmony with rest of room
Design to please both homeowners.
Original upcycled furniture
Disco ball and Lights
The Process
I started off by looking for a suitable sideboard for the record decks and mixer to sit on. It needed to be the right height, width and depth, hold a few record's and also be at the right price! Keeping to a budget when buying second-hand furniture is important as you'll be spending money on materials, which can be costly!
The next step was to plan the design and colour scheme. Knowing the music corner had to flow well with the rest of the room, I chose to use blues, greens, golds and browns to blend with the rest of the kitchen.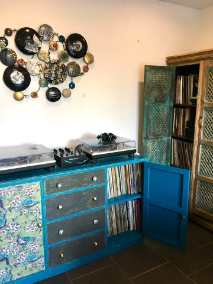 The Details
I usually use wallpaper when restyling furniture, but it can be expensive and add ££ to the materials budget. So when I came across this beautiful peacock design gift wrap, I was chuffed! It was good quality paper, the colours were just right and at £3 a sheet, you really can't go wrong! When using paper on any upcycling project it has to be sealed to a waterproof and wipe clean finish so it is protected for many years to come.
The sideboard has a 2tone distressed paint finish. I used an ochre colour as the base layer, then a bold turquoise blue on top. The drawers were painted with a mid grey paint to give contrast. By choosing a mixture of gold, and black & white handles, I have picked out the key colours in the peacock design paper.
The tall unit was purchased in "Trading Boundaries" In East Sussex. Its a great shop that sells a lovely range of antique Indian furniture. The cupboard comfortably fits a CD player, amp and about 300 records!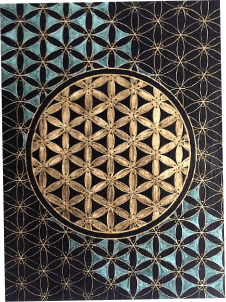 The whole interior scheme has been united by either the colours (greens golds and blues) or the repetition of circles (records, disco ball, art). The circle of life painting (by local Forest Row artist Sarah Charlton) looks great against the lattice design of the tall unit. The metal circle art, which sits above the sideboard has background lights and includes a musical word-search!
If you would like a design consultation, my first initial meeting is free of charge.
Emma x