Fully upholstered chair covered in Themis fabric by Sanderson.
Upholstered chair (2018) by Emma Mullender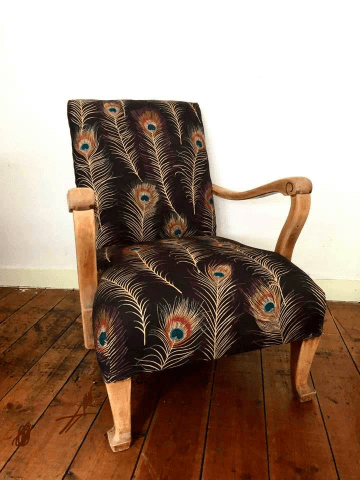 "Emma went above and beyond to help me source the most beautiful fabric. She has an excellent eye for detail and has given my chair a new lease of life. I love it"

Liz Stark
The Brief
Quite often the reason I'm asked to upholster a chair is because it has been inherited and has a sentimental value. Liz wanted to transform her dads old chair and small footstool. She wanted a modern fabric, but a design that would stand the test of time.
The Process
I took Liz fabric shopping to get a feel of what she likes. She chose a beautiful peacock design fabric, made by Sanderson. When I received the chair it was in a sorry state to say the least! It needed to be stripped back to the wood and built back up again. Originally the chair had a very flimsy box cushion seat made of foam, which I changed to a fixed seat by building up layers using traditional upholstery methods. I also sanded the dark varnish off the arms, exposing a lighter shade of oak, which matched perfectly with the feathers in the fabric.