Interior Design for Family Bathroom
"Interior Styling" 2018 by Emma Mullender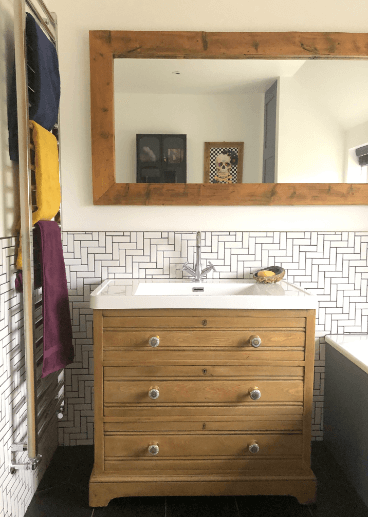 The Brief
Complete renovation converting a box-room into a Family bathroom.
Reposition the door to a central position for a better bathroom layout.
To create an airing cupboard and laundry basket housing.
Bathroom, no shower (2 shower rooms elsewhere in the house)
Light and airy. Black and white with wood and splashes of bright colour.
A space for the woman of the house to relax – Bath caddy, essential oils, candles, wine!
Interior that would suit all house members -not too feminine.
Upcycled vanity unit
Skull Art.
The Mood & Colour Scheme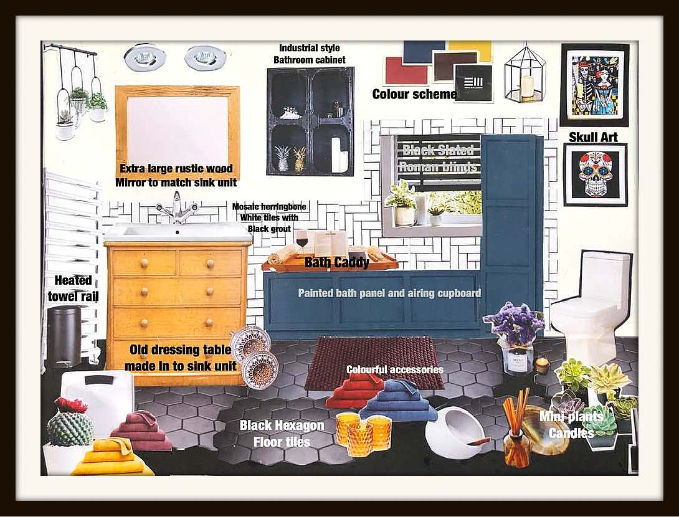 Storage
A place for everything
Storage was an important part of the design. Toiletries, towels and cleaning products to be stored away from sight. An old 3 drawer dressing table was sourced and transformed to a vanity unit.
A cubby hole cupboard with soft close door was made at the end of the bath panel to store cleaning products. An airing cupboard was built for the towels and laundry bin. An industrial style wall unit for the lady of the house to store all her bath-salts, essential oils, bath-bombs!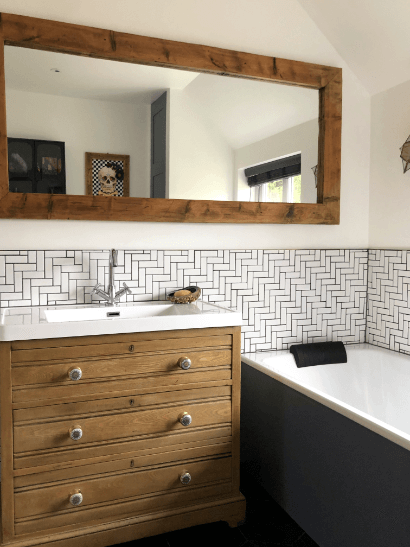 The Results
Complementary colour scheme
The wall-hung taps and bath hose were mounted on the side of the airing cupboard. Black and white herringbone mosaic tiles set at a 90 degree angle and finished with an antique brass edge. Black wooden blinds, white walls, oak wood accessories and the splashes of colour compliment the artwork and towels.
The 3 pieces of art are connected by skulls and colour. The black framed prints were purchased on Etsy. I made the 3D Skull collage to match the prints and suit the colour palette of the room. The colour scheme was continued for the towels, bathmat and plant pots.
Before & After
Making a toilet area look beautiful isn't the easiest or most exciting project to take on, but surrounding it with interesting things will take focus away from the toilet itself. I chose black for bin and toilet brush (not the most desirable objects) so they would blend in with the floor and make less of a statement.